The function of a V-ring is to exclude dirt, water, or other aggressive media from entering bearing housings while also retaining grease. The V-ring stretches over the shaft and assumes a tight interference fit.  They are ergonomic and easy to handle. V rings are made from a rubber-like stretchable material and hence can be stretched easily to fit over the assembled parts of the system.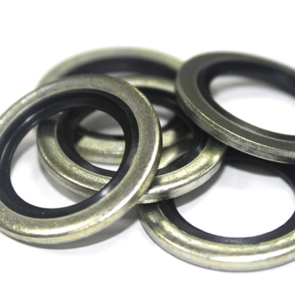 BONDED AND WIPER SEALS SUPPLIERS
Wiper seals are commonly used to prevent dust, debris and moisture from entering the gland housing of a sealing system. Any foreign body entering the seal housing can damage the rod, cylinder and even other seals that operate within the system; with expensive and sometimes dangerous results
O-Ring Cord is a continuous cord of elastomer material used to create O-rings, which is sold by the meter,

O-Ring Cords are made from superior quality material and can withstand temperatures between -20°C to 210°C. They are chemical resistant and hence suitable for a variety of industrial applications that demand temperature and chemical resistance. The Viton O-Ring Cords are ideal for applications that involve contact with the gas, acids, silicone fluids, petrochemicals, halogenated hydrocarbons, petroleum oils, aromatic hydrocarbons, etc.
Pneumatic seals Suppliers
Pneumatic seals are unique because this device restricts the escape of air and foreign matter from entering a pneumatic application like a cylinder. These devices are designed for low operating pressure and are essential to various types of machinery. Pneumatic seals can be used for rotary and reciprocation motion.
Quick Service On Emergency Call - 24/7
when you require industrial belts and related products give us a call